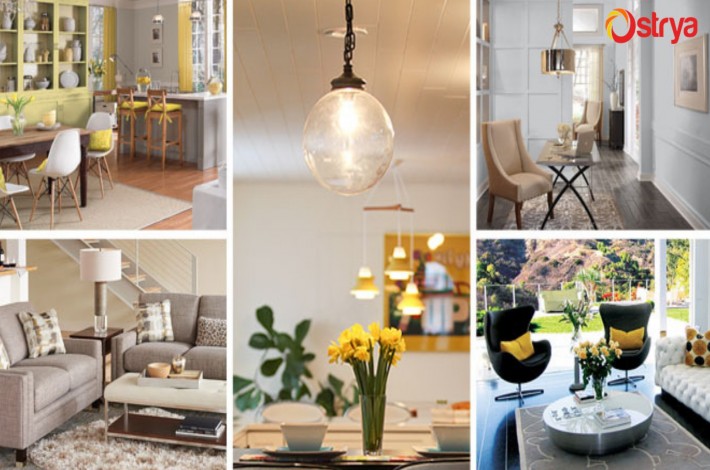 As weather changes, the trends for the interior designing also changing. We catch ourselves inflowing fall, renovations, design projects and redecorating up for this changing trends. Changes from the curved couch to black accents or modularising in the kitchen now grab the attention of customers. Wanting to follow on trends with the latest design looks, take a look at the biggest trends in the interior designing and try to spot it in your home. When designing your dream home, it can see that you are on a continual battle of having the fresh presence to the home with the advanced trending designs. So read on the articles to get to know what is trending for interior design.
Bold Patterns
Bold patterns are now trending for an upholstery and accent wall. Colours can be ranges from bright shade to neutral tones, but the patterns can be now available on a large scale so there can bring some bold patterns to the home. One of the common use of pattern trending is that the classic cement tile designs look. These kind of patterns are appealing detailed in most of the cases however they are balanced out by solid coloured walls or simple cabinetry. Cement tile colour can be varied, they are
• Shades of Gray
• Black & White
• Gold Hexagon
• Shades of Blue
Also, wall stencils can be used to bring the bold pattern in the living areas. The patterns can be different fun graphic based patterns such as:
• Detailed Lace
• Moroccan Tile
• Floral Mandala
• Damask
Botanicals
One of the most common trends in interior designing is to bring outdoors inside the home to generate an authentic sense of feeling to the living spaces. You can use houseplants, textures, colours, materials to reflect some botanicals ambience to your home. So it is suggested that to transform your home in into a gorgeous oasis with flourished shades of green and botanic patterns. Mix adding green shades and offset with metallic accents and dusky wooden furniture. This gazes luxurious and fresh environment and is perfect for unique living rooms and bathrooms also.
Eclectic Matching Accents & Furniture
The matching – matching trending is out and now vastly used eclectic designs matching. It means using similar feel or visual weight accents or furniture to coordinate, but they are not exactly the same items. This kind of eclectic matching is a good way to bring a unique piece of décor into space not having the whole design look uneven or off balance.
Marbles
Marble is another term for luxury and is still the most demanding trend in interior design. It is simply easy to bring in your home for giving the luxury effect. Sometimes it is very expensive but it surely gives your home an elegant and classy look. If you do not have any budget for the solid marble tiles or furniture, you can try wallpapers with marble effect or ceramic tiles.
Double-Tone Cabinetry
Now the classic white coloured kitchen is out of trends, using white cabinets for the top cabinetry and the black cabinets for the lower cabinetry are the trend, it brings a bold sophistication to the kitchen areas while keeping the classic grace of a white kitchen. When two tones on the main cabinets of the kitchen are unnerving to you, then put mixing cabinet colours to give the elegant looks to your customized modular kitchen. When mixing too much stuff to an area may be given a cluttered look to space and overall gives a clumsy feeling. So put only the required things to provide the stunning looks to your kitchen areas.
Statement Ceiling and Floors
Statement ceilings and floors are now commonly seemed trend in interior designing. They can be in the form of geometric patterns, bold colours which you can blend with your ceiling or floor designs. If you do not like to put this eccentric interior designing for your floor to ceiling, you can use patterned ceiling or floor. In this way, you can create a statement without disturbing your interior design choices.
Curves and Smooth Edges of Furniture
One among the huge change in the interior design trends is the use of smooth edged or curved furniture designs instead of boxy edges and clean lines. That is changes from puffy and soft chairs to curved coffee tables are all about elegance and comfort in interior designing elements. People are fed up with the squared and rectangular typed furniture and now they are interested to incorporate smooth fabrics and round shaped furniture.
To go on with the latest interior designs trends, you need to approach the best interior designers Kochi to get the finest trendy interior designs to your living spaces. If you are searching for best Home Interior Designers in Kochi, the name that would make you strike a triad would be Ostrya. One of those interior designing service providers in Kochi, who has the expertise in both residential as well as office interiors. Henceforth Ostrya, the best home decorator Cochin is your right solution for bringing the latest trendy interior designs to your spaces. We are the pioneer in interior designs to deliver 100% quality work in affordable prices to clients. Be with us to experience the most designing patterns for making true your dream concepts about your living spaces.