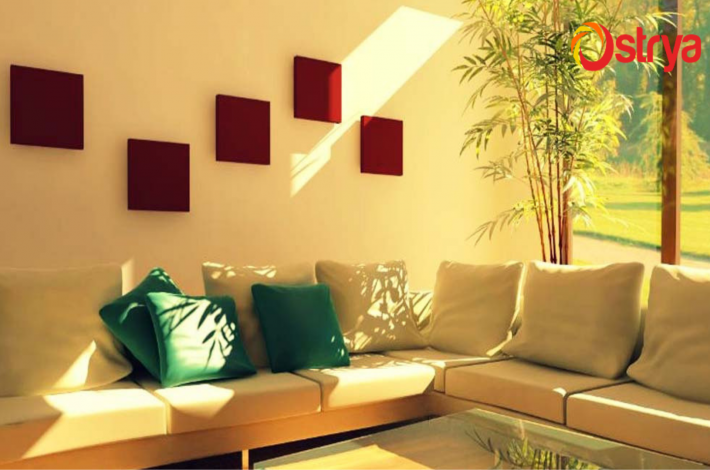 Home is where the heart is. It is the reflection of residents and personal space for one to relax and happy. Everybody strives to attain the perfect home and standard of living that not only becomes your comfort area and an extension of your personality, but also a special space that can be flaunted to family and friends. Personal space is such that it should bring you more peace and relaxation, especially after the fully hectic day at work. For bringing such peace and relaxation to the house, the house should be converted into a home with good interiors and environment. Good Interior designers can help you to attain a good balance to your living and working space and increase your potential for achievement in your life. So it is highly essential to smarten your messy home with the expert interior designers for the comfortable living. There are different ways to bring positive energy to your home, read on the article to get the essential tips.
Focus on Front Door:
Front doors should be in perfect condition as it signifies prosperity and also inviting. To pull the energy to your front door need to place beautiful plants and lights on either side of the door. The hallway or the entry hall denotes opportunities; hence always ensure to keep it clutter free so that energy can be freely circulated in the hall. Place all the unwanted things inside a closed cupboard so that they do not stagnate the energy and throw a fresh feel. Also putting beautiful mirrors and fresh flowers in the living area uplift the energy of the space. Ensure that furniture and sofa is correctly placed and it does not block any doors and position the sofa against the wall to get the more spacious look to the hall.
Dining area:
It is an important space where you can focus mindfully on what you are eating. To optimize the energy in the area, place a mirror on the wall to reflect the dining table and need to place fresh flowers on the table to get a fresh and peaceful atmosphere where you can sit back, relax and enjoy meals.
Kitchen:
It is the heart of the home and its energy signifies relationship harmony and nourishment for the residents. Remember not to place the gas stove and sink opposite each other as this can lead to the arguments between couples and it might create fire and water crash. Another thing that should be reminded, when it comes to design the kitchen is colours. Try to avoid too many dark colours like black and red as it also causes a water and fire crash. Gas hob not to be placed under a window or directly opposite the kitchen or front door.
Bathroom:
Like any other space, more importance should be given to bathroom interior design. It should be maintained clean and hygienic all the times otherwise it spread negative vibes to inhabitants. Also remind, to keep the door of the bathroom closed every time to avoid letting negative energy diffuse your home. Sometimes it might create certain obstacles to personal and professional relationships.
Bedroom:
Finally, the bedroom should be a personal getaway, a sanctuary which expresses your favourite colours, collections and feelings. It is the personal space where you spend most of your hours in the home. To encourage restful and relaxed sleep, the bedrooms must be painted with light neutral colours and the beds must have the headboard and are positioned against a solid wall. Place bedside tables on either side of the bed to provide backing. And also place lightly aromatic candles and curvy lamps on the bedside table to throw some romantic energy.
Are you worried about how to bring positive vibes to your cluttered home with the best interiors? Whatever be your design concepts, a good home designers in Kochi can help you to reach your design dreams with the best design solutions. They apply practicality, innovation and uniqueness to all project to bring down lots of positive vibe to the home. The best interior designing company offer the best style, comfort, quality and selection. They deliver your end to end-home interior design solutions by performing a detailed analysis of your desires, margins and the environment to come up with top quality and low-cost interior designs. Ostrya, being the best home interior designers in Cochin brings high standards of interior designs for every home in a unique way. Take your dream interior designing ideas and connect with trusted professional interior designers Kochi. Designing of house interiors is a puzzle where each room has its key pieces, but there are limitless possibilities for colours, layouts and configurations. Be inspired & take your home goals to the next level with Ostrya!!!