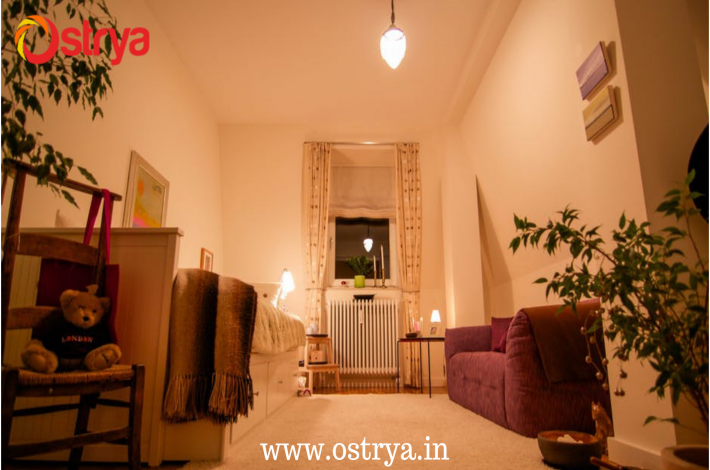 The success of an organization always depends upon the productivity level. Whether you are at home or in the office space, an intelligently designed space is the essential component for the productivity. Workspace in an organization is the very crucial place to be preserved and designed well as it is the area where most of the staffs stay for a long period of their day as the minimum of 8 hours. Designing an office space should be in a way that it creates a worker physically along with psychologically comfy. So it is the responsibility of the authorities of an organization to make their employees comfortable and to guarantee a pleasant working environment. Let's check out the few designing tips which can turn your office space into a smart and healthy working environment.
Have a good temperature and proper air circulation
A well organized and airy office sets up for basic good designed office areas. When you hired a new building or space, make guaranteed they have proper ventilation. There might not contain any type of irritability or congestion when the area is crowded. And regulating room temperature is also crucial for nowadays as there is usually non-stable climate. Having fresh and quality air in the workspace can make extreme changes for employee's health and also in their productivity and focus. So when you planned to design your office smartly try to confirm that there is good quality air flowing inside the workspace. Though whether your office is in the closed space, then try to install air purifiers and air filters to upsurge the quality. Including small plants in your office space also a good way to generate good air circulation within the office space.
Include green plants to the office space
Adding green plants or indoor plants to the workspace will make over the employee's mood on top it will make a stimulating feeling. So it's a great idea for ornamentation purpose as well as for the environmental balance of the office block. Adding green plants to the office space increases the air quality of the room and also give a fresh ambience to the dull office atmosphere. If adding plants to the room is failed then add a natural greenery or pictures to your office wall or set a green screensaver to your laptops which will definitely motivate the staff to do more work and focus.
Select good colours for your office walls
It is the fact that colours have the power to touch our mood and brain function. It is scientifically proven that certain colours have the impact of good spirit and wellness in the area. So select a mild and delicate colour to bring more positivity to the workroom. Having mild colours around us shake our productivity and energising level which is essential during work. It activates a sense of emotional and physical stimulus within an individual and inspires the individual to do more work effectively. But too much of a colour can impact on negative effect on workers which may make them dull. Henceforth pick good colours that suit your office space. So it must keep in mind that always chose mild colours in the minimal level and never select the colour that might distract the whole working environment.
Never compromise with good quality furniture
Good chairs and desks are essential for providing the good working environment for employees. Select good ergonomic chairs in place of cheap furniture to avoid certain physical health conditions problems of employees such as neck and back pain complaints. Taking chairs that match the structure of the back is a noble addition to the workplace since staffs can feel more relaxed and less stress is given to their backs on their working period. Include adjustable chairs and tables to suit all employee's preference. So never compromise with choosing good quality furniture for creating a well-designed office space and also for boosting up the productivity of employees.
Adopt proper lighting methods to the workspaces
One of the most significant supplies in the workplace to make the workers feel more relaxed and dedicated in their work is having proper lighting to the rooms. Since lighting has both a good and bad side, so do it carefully to the office spaces. A good lighting can enhance the employee's performance level whereas bad lighting causes headaches, eyesight weakness, fatigue to employees. So it is essential to invest more time and money to install proper lighting in the office spaces. You can also include natural lighting bulbs or can use light therapy technique to make workers more comfort during work.
Install noise pollution panels to the workplace
The studies show that when the place gets crowded, the chances of noises also increases it will create a drastic impact on the performance and personality of employees. Noise not only is disturbing to many, but it can considerably upturn stress levels for employees. So design the workplace with various noise pollution panels to absorb sound, or use sound absorbing sheets in and around conference rooms to evade noise pollution.
Designing an office space does not only depend upon the designer creativity but it also must be in a mode which does not indulge the mood of the room. Are you confused for hiring the best Office interior designers Kochi for your office spaces, you can undoubtedly contact the Ostrya, the best interior designers Kochi, you can experience the transformation of your present dull working environment into your energising working atmosphere. A good interior designing in your offices makes employees more relaxed and comfort which reflects on their productivity level. So it's high time to renovate your messy office spaces into the well-designed manner, for this Ostrya the most popular Interior designers Kochi will assist you. Please browse our website for further information or contact us directly on 0478 2875786 and let us support you to design and plan your offices without any obligation.