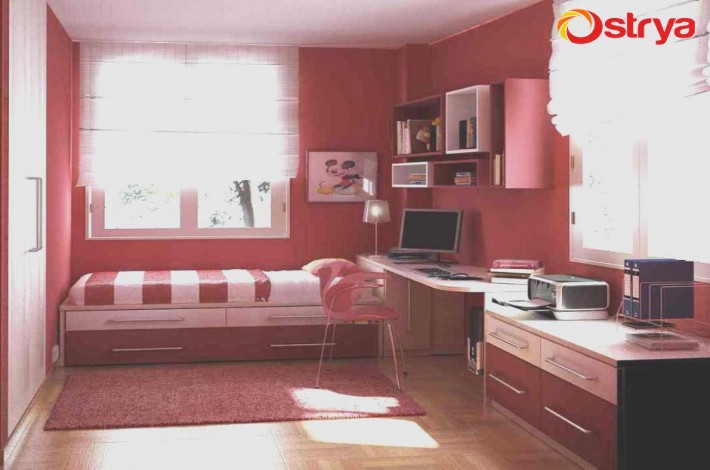 Small space design can be one of the difficult tasks for a homeowner's life. If you are living in a house with narrow space, the main concern for you is the lacking space that makes your rooms looks messy. It is a fact that everyone desires a spacious room that includes all the essential facilities. With the best Interior designers, you don't have to worry about any sort of interior designing desires. When you are irritated with your messy and small spaces, the best home Interior Designers in Kerala will help you to transform your small interiors looks into bigger. Let's explore the best interior design ideas and tips that make over your small living room.
Choose Light Colours
Selecting a light colour inside the small room is the excellent choice to make the illusion of a bigger room. Experts suggest that using light or neutral shades over dark colour themes to reflect more light in the small space, which also makes the space airy. Light-coloured window coverings, carpets and flooring, are commonly recommended to complement the sense of feeling of warmth and openness inside your small room. However, dark colour themes are more stylish, cool and design-friendly, and is apt only for the spacious rooms. Therefore, when you use a dark colour in space- limited room, it will make it look even smaller.
Select Furniture with Legs
When you are planning to buy furniture for your home, always prefers to select furniture with legs as it signifies small space. This is why, when you pick large furniture that directly touches on the floor it may take more space of the room and look even smaller. Conversely, when using furniture with legs, convert your small rooms to look like bigger &brighter. For generating a spacious space for your small room, it is vital to replace your big bed and furniture with smaller one to avoid the clumsy look of the room. It is usually proposed that selecting smaller stuff will take advantage of your room space and create an open look. Also can adopt wall hung cabinets and shelves to improve the size of the small room when elevated furnishing might free up the floor to give up more space.
Avoid Luxury Window Treatments
Do not use heavy or ornate window treatments for a small sized room. It is true that the luxury window treatment might add up beauty and cool effect to the room, but these long curtains and hangings, made with heavy materials will limit the room by easily entering natural light. Therefore, it is good to make use of windows in the small room in the way to easily bring more light to every corner of the room. Particularly, when the light coloured wall with the facilities of directly entering natural light throw the small room look into the bigger one. Slatted window blinds, bamboo shades and sheer lace curtains are perfect for elevating your interior décor of the room.
Place a Mirror
Placing mirrors in a room is the simplest and good choices to make your smaller room in a larger than they are. Mirrors not only aid to look beautiful but also can improve the entire room appearance. By placing, a large mirror in your small room will reflect light and can generate the illusion of your room look double its actual size. Correct positioning of mirrors towards the window will also capture the outside scenery; exploit light reflection and fresh air inside.
Clear Out Unnecessary Stuff
Using too many things to your room will leave a cramped look. So, it is significant to add only necessary things and need to place them in the right position to get the feel of openness. Placing some stuff a bit off the base will absolutely make a feeling of more spacious in a small room. Also, need to choose multi-function furniture to free from the need of various separate items. Hang attractive artworks or items on the room wall will grab the attention of the visitors, which will eliminate the focus of the rest of the small room.
Hiring right interior designers in Cochin is essential for transforming your small room appearance into the bigger look. For this, you can hire the best interior designers Kochi, Ostrya where you can meet up the wide varieties of unique designing ideas and expert interiors for designing your living space as a truly worthy one. If you are looking for the best home decorator Cochin to tie with your dream living spaces? Visit Ostrya, one among the leading interior designers in Cochin, committed to fulfilling each dream of a needy person in a systematic and effective manner within the budget.