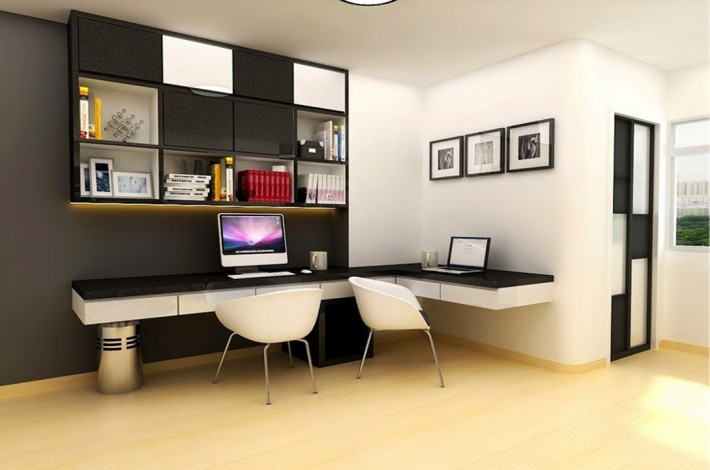 The study room is a space which should reflect one's individuality and character. The area should be well organized, decorated and furnished in a manner which provides a feeling of comfortable and productive. The area does not include any distractions and must be able to give the full concentration to the studies of the students with its elegant interiors. Though, this doesn't mean it has to be rigid and boring. If you are not choosing the correct place, then you are wasting your time trying to focus. For paying such a worthy and peaceful atmosphere to study, numerous factors must be considered of. Interior designers play the key role in providing your study room in the manner as you needed. For this you have to contact the best Interior designers in Cochin, Ostrya is one among the best Interior designers Kochi. One of the significant things to be noted in the study room decoration is room could not be too cosy since it will generate more sleepy ambience rather than staying into the studying process. So let's learn some of the important interior designing tips to decorate your student room.
Customize Bookshelf
Create sufficient space for placing your precious book collections by adding customized bookshelf or cabinets and also need to create an extra storage area in your studies, if you are a bookworm. Things must be placed in a well-organised manner which helps in studying. Whatever can be renovated to hold your things if you get innovative. Even a small ladder can be used as a pretty storage feature with a jiff of affection and attention. Even though if you're present bookshelf has a plain backboard, then you can personalise by stuffing photos into the vacant spaces just behind your books.
Decorate Study Room with Inspirational Art
It is quite interesting to decorate the study with the things that motivate and inspire you. So it is the best idea to renovate the entire study spaces with inspirational artworks. This can be done by pasting the posters of legends that you admire or those with inspirational quotes which will definitely encourage and inspired to study harder.
Guiding Light
A dull study area is not good for our eyes and also it distracts concentration while studying. You also make sure that the study room must have proper air ventilation with good lighting. The lights of the room should not be too bright or very dim as they can be acted as obstacles while studying. It is essential to balance the light and neutralise it based up our comfort and vision. So for the proper lighting, you need to get hold of a table lamp which you can effectively use at night while studying.
Sitting Area
Table and chair can be placed by facing the window hence natural light can be easily entered into the study space. If your study room does not have any adequate space for the table, then you have to design a foldable table and chair so that it can be separated after the student completed the study. Sometimes, it becomes tiring to have sitting for long hours in the chair. If there is more space in the study room then allow creating an extra sitting area in the window side or nearby a corner of the room.
Schedule or Show Your Calendar for Hang On Your Task
It will be helpful to have a visual help for motivating you to get your tasks done. For this use a large desk calendar and need to write down significant information such as assignments, exam dates, presentation topics that you have in your class. It will help students to schedule their works and helps to meet up their deadlines in their academics and curriculum.
Construct a Loft Bed Study Spaces
Sleeping on a loft bed is a pleasure for all children, not to remark an effective use of bedroom area. It is also a good idea to build a study area under the bed that lets your tween, college student, kids a useful workspace inside their own bedroom.
Leisure Lap
A study area should not only have a lot of books and more books. It is also important that students get involved in other entertaining activities like listening to music or playing games etc. So take pauses in between and relax after a long studying.
Whatsoever be your necessities, the excellent home interior designers can comprehend your desires, lifestyle necessities, get your interior designing ideas suitable with your financial plan. Hire the finest home interior designers in Kochi to transform your house, mend your lifestyle, enhance your home's value and deliver a massive sense of satisfaction to your home decorating desires.