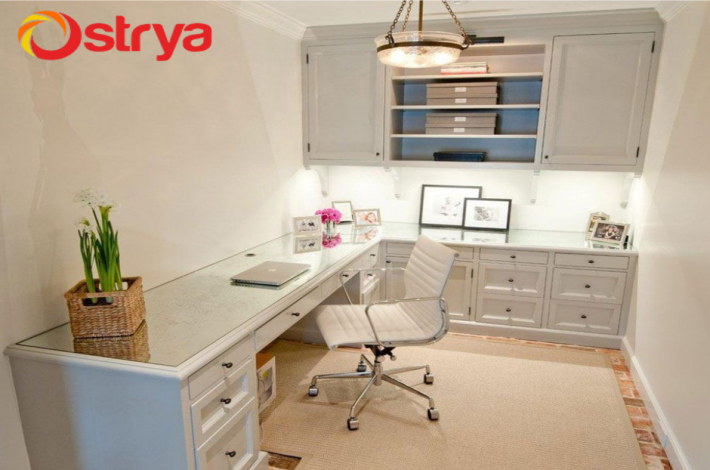 Are you planning to design a home office to your home? Now home offices seem to be more common of these days. But it is significant to select the right interior design for your home office which will stimulate you and help to complete your works quickly. Whether your home office design is located in a small bedroom or can be an entire room, or a working corner you have to make sure that there must get enough natural light along with the spectacular view of greenery and also with the right kind of furniture to produce a comfortable and well-organized area in a professional manner. Decorating home office is quite different from designing any other rooms. When you are work from home, you need to stay away from all the distractions and disturbances. Based on the latest interior designing trends minimalist designs is the better idea to design a perfect home office. Therefore, the ideal home office takes careful considerations; there are certain essentials that you have to consider while designing a home office to your home.
Opt for simple design
Simple is always the best, so make your home office as simple as possible. That means you need to decorate your home office only with essential items. Do not need to stuff with useless and unwanted items, which cause clumsiness to the room. So select the furniture with minimal, a desk and table is enough for that room. Hence, always go on with minimalist design to make your home office as the unique space.
Choose the light shades
Typically minimalist offices are furnished in cold and light shades to give you the exact spirit and mood for completing works. Your home office should be an inspiring, refreshing, and have enough space to work in. The sleek and dark modern office style could easily be the office of a professional fellow who entertains customers from time to time. It is suggested that go on with neutral shades, which help you to not distracting with others.
Design with Glass
Using glass material to your home office is the ideal ways to create a minimalist space. It gives the room a more cheerful and polished look and also creates a good impression that gives perfect mood for you to work and to focus on it.
Give yourself a view
It is necessary to give yourself a view for concentrating on your work without any disturbances. That means to position the desk where you can gaze at something that is more interesting than a plain or blank wall when you look up from your laptop or PC. For this, a windows natural light is perfect. In case if you have a windowless space, then no need to worry, you just simply hang a beautiful picture above the desk or can position your chair to face the door.
Select homey accessories
Unless you are going with the modern look, pick extras that increase the comfortable feeling of your home office such as you can place a pretty mug as a pen holder, stylish notepads and sticky notes and of course can place a trendy decorative waste bin. Also, you can add utilitarian bookshelves, hang motivational paintings or wordings on the wall, attractive artworks or anything that make unique as well as useful to your home office.
Let your room get sufficient Natural Light
Both artificial and natural light is vital for your office environment. Plan the architectural layout in the way that there must be the facility to enter sufficient natural light to your room or you can use enough artificial lights. When natural light enters your room it will definitely give a positive working mood and ambience also. So, you will be more productive and it will benefit your business.
Building a perfect home office is often more than cherry picking a table and chair. Refer the best Interior designers in Cochin to help you in striking the perfect balance in a cheaper cost and to meet your expectations for generating the exact assortment of the interior design solution. Ostrya, one of the top leaders in interior designers Kochi will renovate your home with excellent interiors, without giving any compromise for the quality and perfectionism of the works. We make your living space truly yours that might reflect your tastes, desires and lifestyle. So, no more waits, catch Ostrya to chase your dreamy interior design for your living Spaces!