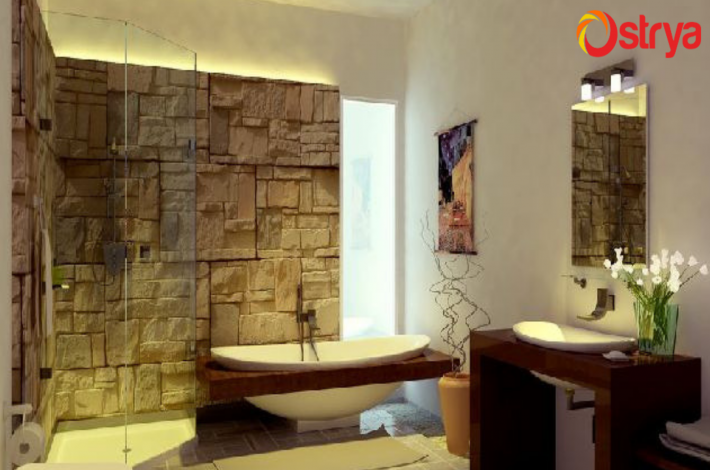 If you are thinking to have your own personal space that you can relax and calm down in solitude? Revamp your bathroom into the personal home spa zone, so that when you return home you can enter into the relaxing bathroom setting. You can upgrade your existing cluttered bathroom in to vibrant and spacious by removing the mess, upgrading bathroom appliances and adding new decorative touches. In this manner, you can attain a stylish and affordable spa-like environment in the cosiness of your own home. If you are confused for approaching whom to transform your cluttered bathroom into your personal home spa and the super deep clean bathroom, then you can head on to the top interior designers in Kochi. Ostrya – the perfect interior designing solutions will give you the best ideas and design to deal with your bathrooms. Look at the following ideas to upgrade your bathroom and turn it into the perfect home spa experience.
Declutter -If your bathroom is obscuring in toiletries, hair products and makeup, eliminate the clutter by getting rid of items that you don't use on every day and keeping them beneath your sink, in a cabinet or a basket. Try to keep your essential at hand and neatly tucked away, which will help to build a relaxing atmosphere to the bathroom.
Lighting of the Bathroom- Lighting is the major factor that has the role to make or break a room. When it comes up to the bathroom, it is better that avoid the use of overhead fluorescence lamps or lights. Only use lights that are suitable in bathrooms like small chandeliers, dimming bathroom lights and much more according to your tastes and convenience.
Modify the Vanity- Old vanity can easily be transformed into a newer one by placing new drawer pulls and beautiful cabinet knobs. It will definitely throw a fresh look like a brand new one to your bathroom.
Create Extra Storage-If you find troubling in storing bathroom toiletries and essentials in your bathroom, get more creative by including more storage areas in the bathroom. Try to adapt real spa storage settings and implement how they effectively organize and display toiletries. Use glass jars to store cotton balls on the countertop, wicker basket to place hand towels, the tray for storing hand wash, lotions, soap and other products.
Replace the Outdated Metal Fixtures & Shower Head-Renovate your existing bathroom cluttered things and upgraded the space in a truly reviving area. In this manner, you will get the traditional spa looks in your bathroom. Coddle yourself by upgrading your shower with a massage showerhead. Need to choose the unique showerhead and metal fixtures to your bathroom that must suit your style and generate a posh spa-like bathroom.
Élite Calm Colors - Spas are commonly painted with neutral colors and a mixture of organic and natural shades of images. Try to avoid energetic colors in the bathroom. So set the tone of your bathroom cum spa by picking neutral colors like blue, white, light lavender, warm white or beige to make a peaceful and relaxing environment. Also, keep in mind do not use colorful shower curtains and bold accents, which do not give the spa-like ambience.
Decorate your bathroom via personal spa space with the things that are treasured to you and inspire you to become more refreshed and positive. Change the outlook and make individuals jealous of your home by hiring the best home decorators in Kochi who can design a wide range of interior styles to induce a calming, refreshing, soothing, and charming mood for your spaces.
For better guidance and the effective interiors, head to Ostrya, the top interior designers in Cochin. We offer a broad range of interior designing services at best prices and works are finished in quality with strict adherence to schedules. Ostrya, your ultimate choice for all your interior design concerns, so no more waits, get in touch with us. Let us know, we are all ears!