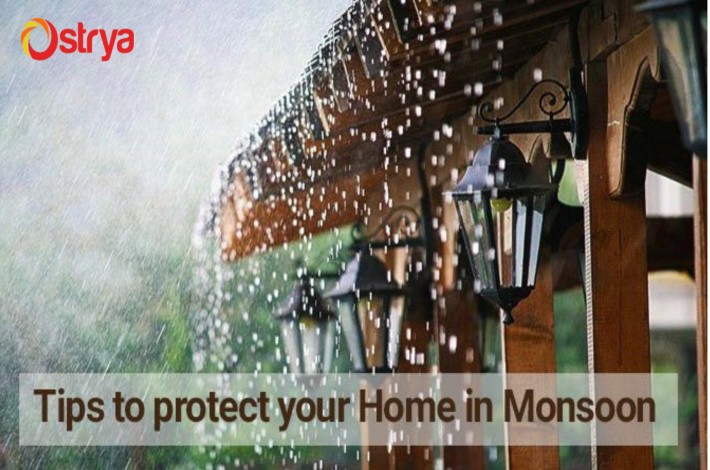 Monsoons are the beautiful seasonal time that everybody loves, the heavy rains, cooling breeze, soothing sound of dropping raindrops, and of course the fragrance of wet soil. As the specialities of monsoon time make anyone to easily fall in love with this season. Usually, we all are enjoyed to sitting with family in your veranda with a hot coffee and eager to observe the pouring raindrops in the midst of dense trees. But unluckily, monsoons kill happiness to our homes and end up with decayed, mould-infected, cracked walls, dripping, wall paint peeling etc.
Tips To Guard Your Home during Monsoon Time
It is important to protect your walls before the monsoon arrives. You have to give attention that, to paint your walls only with the waterproofs and oil paints with high quality. It in turn help to let your walls hold in the firm moisture and therefore protects the primary material. If you observed cracks in your walls, then use a waterproof mortar and close the cracked part to prevent waterlogging. You have to remember that waterlogging will surely show inside as well as outside of the wall. For this, you can definitely take the assistance from the reputed home interior designers in Cochin to renovate your home as waterproof.
Have Proper Drainage Facilities in Your Home
When a house is built, the plumbing idea is also developed and given to the house owner by the good interior designers and architects. This plumbing plan will help you to inform all the pipelines used in the wall, so it is helpful if you noted a moisture or seepage on the wall, then you can directly refer your already developed plumbing plan to report the problem. Ostrya is one of the topmost interior designers Kochi in which they offer all sort of services for designing hassle-free happy homes.
Did you notice any darker areas in your home? If yes, then it is essential to provide a proper ventilation to your rooms to keep your house away from the unpleasant scent of monsoon rains and other related matters. Having a proper ventilation to your rooms is necessary to remove excess moisture inside your home.
Find out Any Faults in the Electronics things
It is highly necessary to make sure that all your electronic fitting are correct before the occurrence of monsoon seasons. When heavy raining hits the defective electronic things, it may cause huge damage right from voltage variation to power off. It is preferred to call the right electrician and fix those damaged things or loose wires to save your family from the unexpected electric shocks.
It is commonly seen that all are interested to use expensive rugs, carpets for decorating their homes. But in Kerala, monsoon time is usually too long, so when it comes up, there can see the fungal accumulation in carpets, rugs, runners etc. So to avoid these rugs and carpets from the fungal growth, you need to put all your carpets and rugs in the sun to dry them and it is essential to let them cool, fold and store them in a dry and coolest area for the monsoon times.
Disinfectants Are Necessary During Monsoons
During monsoon, you can see plenty of cockroaches, bugs, and leeches everywhere. So aside from the risks and the possibility of sickness and the bites of these kinds of insects may be disturbing you during the rains. So to get rid of these insects keep using disinfectants, it is also essential to thoroughly clean all the nook and corners of your homes and also try to keep your floors as dry as much as possible.
It is vital to make sure that windows and doors must be closed properly during the heavy rainfall. Do not consider it too lightly since it causes the rainwater leakage inside the home and generates some discomfort and wet atmosphere in the entire room. And also, at the times of monsoons, air conditioner ducts leave the trail of rainwater flowing across the exterior walls surface. So have a proper planning and need to fix the problems caused during the heavy rainy seasons in your home. For this, you can contact the best home decorators Cochin for protecting your home from the aftereffects of the heavy rainfall in the monsoon time period.
Hire the Best Interior Designing Company
Dipping raindrops can bring happiness to you and make your mind relaxed and peaceful. But the heavy rainfall may cause damages to your home, so you have to follow the above tips and take it seriously and also take certain precaution steps, then you can freely enjoy the rainfall without worrying the damages caused by monsoon rains. Otherwise, one better option is to keep your home protect, before the monsoon starts, you can hire Ostrya interior designers Kochi, which is the best of all the interior designing companies in Kochi to design your homes ready and prepared for the monsoon seasons.