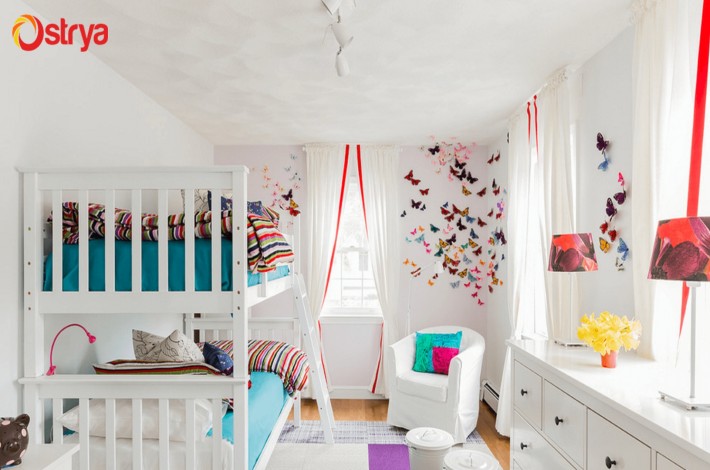 To design and decorate a kid's room is not a simple process as our kids are our world. We are always focused on to make them more creative and happy. Childhood is the most priceless period in our lifetime. It is the age in which the creativity, imagination, expression, character builds upon this period. So we have to carefully design our kid's room because kid's bedroom plays an inevitable role in the growing phase of their individuality. Your kid is going to spend their most of the time in their bedroom, this makes all the sense in the ecosphere to make it right. It is said that a kid's room must be the reflection of their little personalities. If you are planning to renovate your children bedroom, try out these interior design tips to make your kid's dream room come true.
It is quite normal that the interests of the kids may vary at the smaller age they may love cartoons as they grow up their taste of interests may vary. So if you focused on the theme based décor it is not easy for you to replace all these décors according to their changing tastes. So it is preferable that instead of sticking on a theme, try to add up elements of décor in slender accents. That is when your little one loved trains, put train related decals so that it can be easily removable.
Choosing a colour palette for your children room is a significant task and it's not an easy task for all. As the colour taste of the kids may vary. Try to introduce a light shaded combination colour as it creates a positive and bright aura. A bright accent wall colour of the room will help to mould the character of the kid and is literally give an appealing effect. So choosing the apt colour for your kid's room is essential and also it is important to safeguard that the paint is cleanable as a result that your child's masterpiece can be easily wiped clean.
Kids love to play on floor, fall, sleep, eat, walk and may have lots of fun. So let we can make them absolutely right. Carpets have been an old-fashioned choice as they look luxurious though providing safety. But, keeping carpets clean and dirt free is a difficult task. From the last past years, rubber flooring gained more popularity and act as the safer substitute for tiles. It is a softer surface and therefore, prevents any cuts or harm to the child while playing. But sometimes your kids may face the problem with this flooring are its feel and odour. Hence, it is essential to check them before getting installed. Wooden flooring or laminated wooden flooring also can be used in a kid's room. As these are comparatively softer, easy to clean, maintain and also comes in various shades and colours.
You have to go with the style of furniture which has simple lines. When you designed your kid's bed is in the shape of a race car it is good for a 7-year-old but when he is in the teenage times, his tastes vary. So it is preferable that choose wisely furniture to your kid room. Oakwood and day beds are some amazing ranges in furniture as they go on with any colour and is suitable for children at any age. So you have to keep in mind before buying furniture simpler can be more flexible.
Art is an excellent way to get visual interest to the bedroom and will be a useful tool when it comes to choosing a colour scheme. Motivational artworks create an urge in the mind of kid's make them more inspired and it should reflect in their personality. You can also bring pops of colour which can be mirrored in soft furnishings and bed linen, serving to unify the room space in a harmonious way. Modernist or graphics prints can also lend more classy tone to kid room.
The major task while making your kid's bedroom is ensuring that it is organized and clean and also there is enough space for playing though keeping a decent storage space for their toys. Allotting proper storage solutions help your kid to be more responsible, discipline and tidy. It is important to guide them to place their toys and things in the right place after they used. Colour-coordinated storage boxes can be used in your kid room to make an organized kid's room décor.
Lighting is one of the major factors that should be considered while decorating your kid's bedroom. Each light have its own significance such as fairly lights may generate a cosy environment, task light beside beds may help to stick on reading and the good ceiling lights brings a central focus to the room. Proper lighting is necessary to create wonderful spaces for your little ones.
One of the major concerns about parents when designing their kid's room is a child's safety. So kid's room must be designed in a manner that there is no scope for any harm to the child. So special care must be given when it comes to the point of selecting furniture. Always choose round or oval shaped furniture to avoid sharp edged furniture as it causes harm to the kid while he or she playing in the room. Another parents concern when designing their kid's room is choosing baby-proofing electrical points. It is always good to place electrical layouts in the heights so that kids can't able to touch it. And also must be kept in mind that to provide further safety to kids purchase items like electrical outlets cap, drawer rubber bands etc.
With these great interior designing ideas, you can make a kid's bedroom suitable for your child at any age. If you are searching for the best home decorator Cochin to match with your kid's dream room? Visit Ostrya the pioneer in interior designers Kochi and your perfect solutions for all your designing concerns. We will design your dreams with our innovative and advanced technologies. Because of our 100% quality work with zero defects, we earned our customer trust and still, we successfully continued our journey as the most demanding interior designers in Cochin.