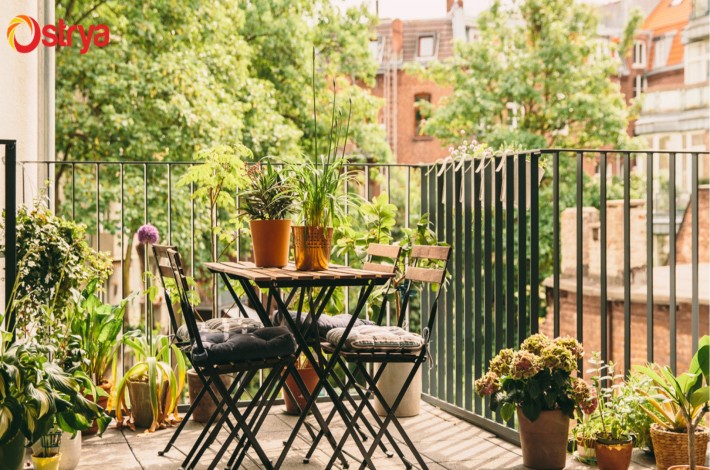 Nothing can replace the beautiful balconies and backyards of houses. The good structure of balconies improves the appealing factor of your home and used to admire the natural beauty. The well-designed stylish balcony may add up value to your residence and soothes the body and soul. When you love to spend some quality time of yourself, the balcony of your home is the best relaxing areas in your home. Hence, because of the importance of balcony of our daily hectic life, it is essential to enhance the beauty of balcony, which in turn help you to stick on this place and help you to get away from all the hustles and bustles of your chaotic life. Let's explore certain design essentials for your balcony.
Balcony Garden
The balcony garden can stimulate admiration if you ornament it the right way. Balcony gardens are now helped most of the aspiring gardeners to catch their dreams regardless of the space availability of your backyard space. Many people now changing their balconies into useful and creative spaces where they spot possibilities of balcony garden are endless starting from the cultivation of decorative plants to growing vegetables, fruits, herbs etc. You have to consider certain things for your balcony garden when it comes up to design it; they are your budget and the amount of the chance of sunlight entry in your balcony. There are wide varieties of balcony designs are available, out of these you have to choose the design that aligns with your budget. The amount of sunlight will find out what kinds of plants that you can nurture in your balcony. Vertical gardening pattern lets you develop an extensive variety of plants in the small space.
Lighting
Lighting the balcony is essential for getting an astonishing night view in your balcony. Before you purchase anything, take enough time to know whether your balcony receives enough sunlight and need to pay consideration to indirect light also. Make sure that no walls or trees blocking the direct entry of sunlight into the balcony. Both natural light and artificial light is essential to enhance the beauty of the balcony. Artificial lights can be introduced in various creative ways like lights on the pots, railings, wall lights, garden lights and many more. For a fanciful look in your balcony, use candles in a chandelier, not only is the sight pretty from outside you also get to see sparkling lights from inside your home. Candles can also use in mason jars all around your balcony. Therefore, lighting is one of the important design essential for decorating the balcony in an attractive way.
Flooring
If your balcony is covered, then wooden flooring is preferred as it throws classy looks and adds extra ambience to your balcony. A good quality artificial grass turf can also use for the flooring of the balcony. It will quickly give a fresh and elegant look which in turn brings outdoors to your inside home. By lining the edges of the flooring with white pebbles or plants give the balcony a Japanese garden effect. Colourful rugs also can be used to give an instant makeover without giving any too much effort.
Furniture
Comfortable seating is also the essential element in the balcony. You can just simply upgrade your present seat by painting with bright colours and stuffing some new cushions with combo colours. Indoor swing or hammock can be used for the fun and formal seating. Wrought iron furniture is ideal for all sort of weather, as it is waterproof and give classy look.
Colour your balcony with creative stuffs
To make your balcony appealing, add some catchy & creative colourful things. Colours are a great way to brighten up not only your surrounds but your mood too. It also makes your balcony spacious, fun and happy. Opt for some colourful rugs, coloured or printed cushions to make fun with it. You can also use some creative things for making balcony attractive like by colouring tins or waste bottles and hang onto the wall by fill up with small plants. Accessories can be tied together to get the complete look for the balcony. The most significant accessory would be the plant, in addition, you can add ceramic birdhouse, animals or by placing a small fountain. The calming sounds of water will keep the balcony beautiful and serene
For homeowners with a hectic lifestyle, who need to have an attractive balcony in their home, but don't have any time to design, then they can take advantage of the best interior designers. By consulting professional interior designers like Ostrya one of the leading interior designers in Cochin, you can just put all your demands & desires about your balcony with us. We are the best home and office interior designers in Kochi; committed to designing your dream living spaces in its best way.