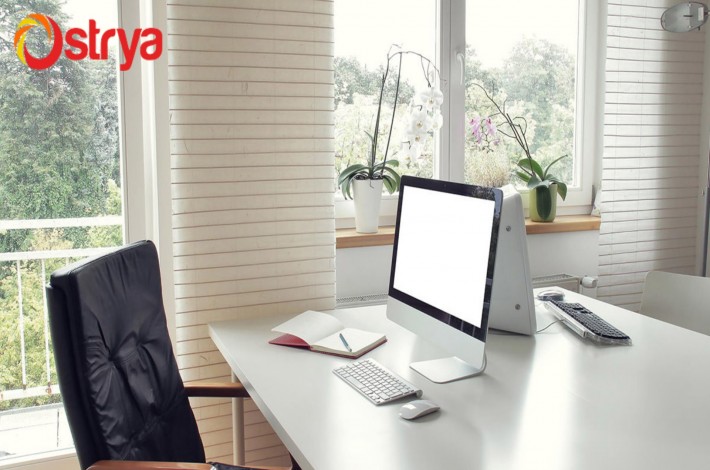 If you take work from home option or, often you take certain office work to go, then you will definitely comprehend the complexities of working remotely. An effectively designed home office is the best way to get more motivated and helps to stay focussed otherwise it will affect the productivity of your work. If you are searching to transform your home office in to more productive then check out some tips for interior designing to your home office on how to renovate your home office space by taking the help from the top interior designers Kochi.
The first step is to thoroughly examine your home and fix the right home office location. Space should be like that it must be away from the hustle and bustle of your home life. When you correctly chose the right space for your office spaces, it will definitely result in a good work-life balance.
You have to ensure that the corner space that you have chosen can be made more functional for your office related works. For this you have to contact the best interior designers in Cochin to make your dream home office into reality, they implement the interiors in your chosen space as both functional and practical to your work life.
One of the best tips to organize all your office stuff into different categories and place similar items together for your convenience. It will make the office space into a more functional area. This can be easily done by the best interior decorators for making your office space into more productive spaces.
The home office must be organized and boosted for working. One of the coolest ways to straighten up your office space is to install shelves, where you can place some unnecessary things. Using the vertical space is a big benefit for the home office interior designing. It will keep your desk clear, which will help you to keep working. Utilizing wall space effectively is a great idea for your home office designing in the way that mounting whiteboards, calendars, filing systems and shelving units on walls.
Housing Light Exercise Apparatus
For maintaining your fitness level, one of the best ways to arrange some light exercise equipment in your home office. This can be done by using light weights and resistance bands which help you keep you relaxed your tense muscles when your work gets more attention-grabbing.
If you want to give your home office spaces as the same feel to the rest of your home spaces, then go ahead with the colour scheme which is congruous with other space of your room. For this, you can use coordinate colours like grey, white or red paint to match with your office space as same as the other rooms of your home.
Most of the studies prove that the performance is raised when there is more closeness to nature. So go green with your home office interiors, place small potted plants in your office room. It will help you to breathe the fresh air which will help to keep your mind and soul relaxed the whole day.
For making your home office spaces into more productive and effective leave it to the best interior designers Kochi, Ostrya. We can offer you with the perfect interior designing styles and ideas to make your dream home office in to true. We can provide the best interior designs depending upon your desires and requirements at a reasonable price. We are confident to deliver 100 % satisfaction to our customers with zero % errors. Look no further, get in touch with us, we are always available to hear from you!!!