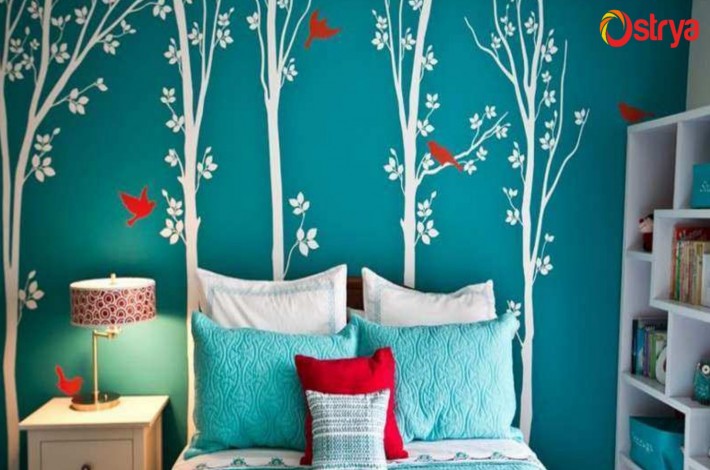 Teenage period is one of the most remarkable life of a being, as they are awesome creatures of God. When designing a teenager's bedroom, there is more than enough area to get creative with schemes, colour, layouts, patterns etc. If you are discovering for the effective teen bedroom ideas, you have to think about the fact that what your teen loves more and like to see their bedroom through their outlook. A teenager has a different perspective of a bedroom than a mature — beyond a room to sleep; it is where a teenage escapes from the world of rules and demands. Teenage bedroom ideas should comprise functions particular to their age, on top of look great. Whereas adults favour a space that is tranquil and simple, teens like lively, high-energy rooms. You can introduce the perfect designs for your teen's bedroom by taking assistance from the top interior designers in Cochin. Let us find out the tips about how to dress up a teen's bedroom.
Multipurpose Room
For any teenager, the bedroom is the space where they can sleep, talk to friends over the phone and even lounge with their friends. Ensure that the bedroom offers the utmost comfort. It should be furnished with a comfortable bed, a study table & chair, some beanbags and ample lighting. Moreover, furnish the room with the colours and favourite stuff that the teens like.
Hit the Walls with Bold Design
Wall is the key element for a space to look like it is designed for teens. Therefore, use vibrant colours, which provide the required energy and inspiration to teens. Also, you might get a bright wallpaper or a decal of their choice. Adding some favourite posters with motivational quotes or their favourite movie on the wall may be other options for putting the bold design on the wall. Some of the customized ideas to hit the walls of the teen's bedroom with the bold design are a bright colour, custom printed wall treatment, custom paint or a doodles wall treatment for a metropolitan style, removable wall decals and some favourite inspiring words in neon or light marquis signs.
Include Fun Teen Innovative Bedroom Ideas
An adult prefers peaceful and sedate bedroom design, while teens prefer bedroom that is fun and an exact signature of who they really are. So the teen's room must depict their creativity and reflects their personality also. Bold, imaginative components will enthuse a teen like nothing else. Certain unique teen bedroom innovative ideas that add fun to the room are a hanging chair or creative swing, round or hanging bed, a wall mounted the fish tank and much more.
Decorative Doors
Doors play a major role when designing a teen's bedroom. It can lead to enchantment. Each room has at least one doorway. You have to leave the doors of your teen's room to make their canvas or painting some beautiful scenery on it. On the other hand, can add the mirror to the back of the door, if the room is facing some space constraints. Use your door as a different element in your design with the collection of great door decorating ideas! Update your door, with a stunning door decorating ideas.
Photo Frames
Why should not generate a photo wall for the teen to place their happy memories in the room? Photo frames are one of the most common things in a teen bedroom as they are keen to interest in taking their snaps with friends, special occasions, and with their family. So they put them as memories in the room in the form of photo frames. You can also choose for customised photo clock or a standing lamp.
Tactile Texture
Teens usually loved to spend more time in their bedroom, as they feel comfortable and safe. Therefore, it is certain that to give the good feel of the room by using good textures and fabrics, be sure to include some gushing elements in the room. Some kind of ideas for this tactile texture are flocked velvet wallpaper, hanging curtains to divide the space, plush bedding, pillows with diverse textures and colours, hang fringe etc.
Storage
Teens love shopping and end up purchasing by the whole bag full of stuff. So, a huge wardrobe is essential in a teens bedroom. Placing all stuff in the correct place keep the room tidy instead of roughly throwing or disorderly placing stuff. Hence, it is crucial to have enough storage area when designing a teen's bedroom. Some of the necessary storage items in the bedroom are shelving, dressers, under-the-bed storage bins, cabinet wall around the bed, storage benches etc. Make storage fun for your teen by uniting function with your teen's sole personality will make a space they will love for eons.
For making, your teen bedroom in its best and unique way, head on to Ostrya, the best interior designers Kochi. We are always availing to satisfy our client's needs, demands & desires in an effective and reasonable manner. Come and experience our excellent services to make your dream living spaces in to truly yours!