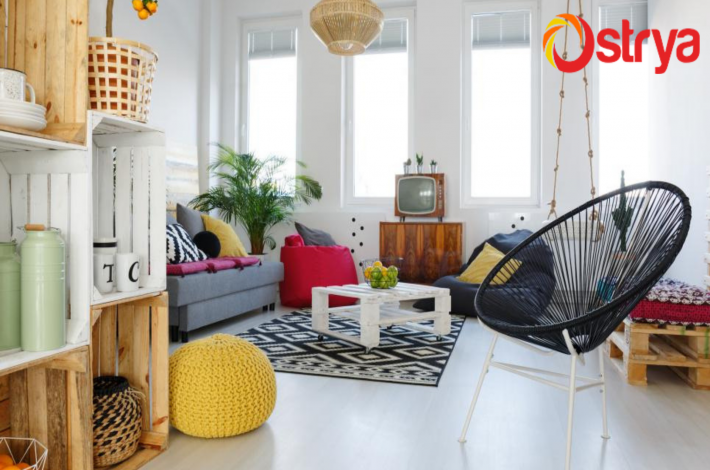 A luxurious-interiors should make you feel comfortable and relaxed. Most of the people are willing to keep their home interiors and exteriors stunning through designing, but always remains doubt in terms of small objects is the size of the room. If you are the one who wishes to décor up your home, then you know that most choices of projects are not very easy on the pocket. Your living room is the most visited place in the house, the spot that your visitors come to sit and enjoy each other's company. If your living room is small, don't worry about it. It's absolutely your own and you feel like to give a good look, this blog aims to give you some clever tips for doing exactly that.
Fix new curtains
Got bored of seeing the same old curtains? Give some alluring style for your windows: curtains that go all the wall from floor to ceiling will provide an illusion of space and higher your interiors spontaneously. Suit the drapes with the sofa cushions, and you have all new colour setup palette in your living room.
Beauty your walls with inspiring art
Wall arts has the ability to uplift the ambience of your interiors dramatically. A gradient wall mural or wallpaper fixed behind your sofa can be an attractive point for your room interiors. These types of wall arts can set the mood, add texture and interest and become a talking point. It's not suggested to buy the uncomfortably expensive painting from well-known artists. Give yourself a try to create some colours together on canvas or buy some attractive painting from nearby art shops.
Try new colour palettes
Seeing the same colour and wall arts for a long time all day can make you get boring. A quick upgrade to the colour of your walls on even for its just a part of a single wall can even brighten up your room.
If you have a tiny bedroom, better not to use hues that appear too vivid, otherwise, your room appears closed-in if the colours are too overpowering. Lighter toned walls and floors will open up your space and make it look brighter.
Give colours to your furniture
Are your chairs looking ages, greyed and worn? Painting a new refreshing colour can give them a new lease of life. This same idea can be applied to storage units, beds and side tables. Metal furnishing can be renewed with smooth, glossy, mat or durable PU paint.
Introduce natural elements
Giving your interior a natural touch is being an interior trend. Incorporating natural elements like, wooden walls, wooden furniture, natural fabrics, natural rock walls are some elegant materials to add to interiors. Natural elements add a touch of nature and charm to your home.
Use authentic flowers and plants
Green plants never get old. It Plants and flowers stay beautiful and well, soothing. Not only fresh plans or flowers looks excellent, even dried or dead plants look attractive in some settings depending on your creativity. In order to suit with your wall colour, you can either choose to blend on or contrast the colours of the flowers or plants.
Ostrya, the interior designers in Kochi believes that your interiors are something that rejuvenates your mind and soul, and we care it with utmost creativity. We always strive to make everlasting interior spaces.